| | |
| --- | --- |
| Waterfall at Jomo'i Gul Chhu | No Javascript? Click here for low-tech menu |
Feasibility Report

Rolwaling Hydropower Project

Gaurishankar VDC-4, Beding

Dolakha


Submitted to

Bridges: Projects in Rational Tourism Development
http://www.bridges-prtd.com
Ithaca, New York, USA
E-mail: info@bridges-prtd.com

Prepared by

Forum for Energy and Environment Development (P) Ltd.

GPO Box: 12756, Tel: 521934
Kopundol, Lalitpur
Nepal
E-mail: feed@enet.com.np

January 2002
---
Chapter 1: Introduction
1.1 Hydropower in Nepal: The Geographical Context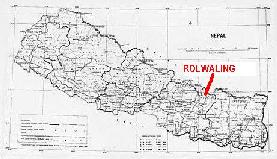 Figure 1.1A. Map of Nepal showing location of Rolwaling

The sovereign independent kingdom of Nepal lies between 80.4' and 88.12' east longitude and 26.22' and 30.27' north latitude. The kingdom is divided administratively into 5 development regions, which are subdivided into 14 zones comprising 75 districts and 4000 village development committees (VDCs). Landlocked between India and China, this small nation (140,800 sq km) is the keystone in the Asian watershed and the suture zone for one of the most remarkable tectonic events in the history of the world. As a result, this rather small country spans terrain from subtropical jungle to the icy Himalaya, and contains or shares eight of the world's ten highest mountains. The dramatic landscape fosters an unparalleled variety of ecosystems, mirrored by a kaleidoscopic cultural diversity. Yet visitors, whether drawn by the natural or cultural attractions, seem to be most impressed by the simple honesty and friendliness of the people.

Despite its assets, Nepal is beset with intractable ecological and social problems. These include a high rate of deforestation, particularly critical inasmuch as fuel wood is the currently the primary source of energy. Nepal is one of the least developed countries in the world; per capita income is $210, and nearly half the population, estimated at 23.5 million, live below the poverty line. Health standards are among the poorest in the world. Gender inequity is widespread and deeply rooted in social and economic factors. The majority of women are illiterate; although they are primarily responsible for subsistence agricultural work as well as household activities, they are customarily deprived of income-generating opportunities.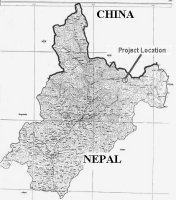 Figure 1.1B. Map of Dolakha district showing project location
In a country with limited marketable resources and minimal industrial development, agriculture is the mainstay of the economy, providing a livelihood for over 80% of the population and accounting for 41% of GDP. The primary sources of hard currency are tourism, textile exports, and foreign aid. Tourism is generally regarded as the best avenue for greater economic opportunity, but is restrained by poorly developed infrastructure and basic services -- especially transportation, communications, waste disposal, security, and electricity. Electricity in particular is perceived as critical to improving the quality of life of rural communities, reducing dependence on fuel wood, and expanding possibilities for tourism development. Since no gas or petroleum reserves have been found, and only low-grade coal, the only viable means of the generating electricity is water power. Nepal is, fortunately, very rich in water resources, and has a high potential for production of hydropower.
In Nepal, hydropower projects are classified as follows:
pico: below 3 kW
micro: 3 – 100 kW
mini: 101-1000 kW
small: 1-10 MW
medium: 10-100 MW
large: more than 100 MW
Given the extremely dynamic character of the Nepalese Himalayas, huge hydro projects are not technically feasible; micro hydropower (MHP) projects, on the other hand, have been quite successful.
Beding, the site of the proposed Rolwaling Hydropower Project, is a remote and impoverished community of about 325 residents in Ward 4, Gaurishankar VDC, Dolakha district. Spread out over 3 settlements (Nyimare, Beding, and Na, from west to east) spanning half the length of Rolwaling Valley, Beding is 3 to 5 days' walk from the nearest road head. There is a school that generally functions for part of the year, being closed during the cold season; there is no clinic, no police or postal service, no telephone, and no electricity. Virtually all of Beding's able-bodied men – except a handful of clergy – seek employment in tourist services outside Rolwaling for at least half the year. When asked what change they would most like to see in the near future, the villagers are unanimous: electricity.
Figure 1.1C. Topographic map of Rolwaling Valley showing project location
PLATE 1.1A Nyimare
PLATE 1.1B Nyimare
PLATE 1.1C Beding
With respect to Beding, MHP has several advantages:
The scheme entails essentially zero fuel cost, and is pollution free.
The delay between construction and commissioning is minimal: on the order of 4 to 12 months.
The operation and maintenance of MHP stations is simple and, with proper technical and managerial training, can be performed by local residents
The proposed MHP station entails no deleterious environmental impact: no submergence of land, no loss of agricultural fields, no dislocation of habitations.
Most importantly, the construction cost per kilowatt is relatively low, as compared with larger projects.
Dr. Seth Sicroff and Empar Alos Alabajos (ind. eng.), the directors of Bridges: Projects in Rational Tourism Development (Bridges-PRTD), have initiated this Peltric set project in conformity with the wishes of the villagers, who are voluntarily contributing labor and locally-available materials. This report is the outcome of a feasibility survey conducted by the technical team of Forum for Energy and Environment Development (FEED) Pvt. Ltd., Nepal. The survey was carried out during the last week of November 2001 as per the contract between Bridges-PRTD and FEED.
1.2 Scope and Objectives of the Study
The objective of this feasibility study was to collect data for the Rolwaling Hydropower Project regarding needs, goals and interests of the prospective beneficiaries, prospective market, probable layout and design parameters, possibility of grid connection, management and environmental issues, socio-economic factors, and funding sources. Specific objectives included:
Selection of hydropower source
Measurement of discharge at the power source
Selection of appropriate intake and canal alignment to obtain optimum head
Design of appropriate civil structures for the electromechanical equipment required for the operation of the system
Identification of potential load center(s)
Exploration of need and opportunity for land/soil stabilization measures
Identification of environmental and other issues relating to water rights
Identification of proactive measures for future sustainability
Identification of new income-generating opportunities that might arise with electrification
Estimation of total cost from feasibility study to commissioning
Preparation of plan for implementation of the scheme
1.3 Accessibility
Beding (3650 m) is a rural village situated in Gaurishankar Village Development Committee (VDC). Since the village is too far from the national grid, the government has no plan to provide electricity within the next five or six years. Therefore, an initiative to generate power locally is the only option.
By foot, it takes 3 to 5 days to reach Beding from the trailhead at Dolakha. The most cost-efficient means of transporting equipment and materials for the MHP is by helicopter.
Due to the extreme variation in elevation from valley floor to the highlands, Rolwaling experiences a wide range of climatic zones, from warm temperate to arctic. At the proposed MHP site, the climate is moderate temperate, with night-time temperatures consistently dropping below freezing between mid December and mid-February. Winter poses a potential problem for MHP: very low rates of precipitation and also frozen run-off streams can greatly reduce water flow.
Rolwaling is an east-west valley blocked on the east and south by high mountain ridges, which means that it is not subject to as intense a monsoon season as many of the north-south valleys in eastern Nepal. Still, the seasonal variation in rainfall is sufficient to impact construction: the best time for plant installation is either spring or autumn.
1.4 Energy Demand: Present and Future
Before proceeding with the survey, we consulted with the villagers, VDC representatives, and local entrepreneurs in order to identify their needs and possible end uses for power generated by the project implementation. Per-capita fuel wood consumption in Beding village is estimated at 450 kg/day; kerosene consumption is negligible due to the high cost and inconvenience. At present, virtually all fuel wood is used for cooking; none is used directly for lighting or heating, although a substantial quantity of fuel is used for the preparation of tea, which is consumed in large quantities primarily as a source of warmth.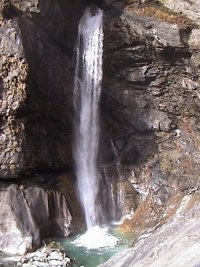 PLATE 1.4A. Waterfall at Jomo'i Gul Chhu
The total number of households in Beding is 66, with a population of about 325. In addition, prospective consumers include the Beding gompa (monastery) and the primary school. The power produced by the proposed project will be 3 kW, which can meet the present demand for lighting in the evening and other end uses. An average of 40 watts per household will be made available, plus 200 each for the school and the gompa. However power consumption during daylight hours must be managed in order to support commercial activities, primarily for tourism services and cottage industries.
Approximately 1 to 2 new houses are being built each year in Rolwaling. This indicates that the demand for electricity will be increasing slightly each year. For the coming three to five years the project can meet demand by using 7-watt compact florescent lamp (CFL) technology. For the longer term, other energy sources including solar photovoltaic (PV) home systems, are possible.
Jomo'i Gul Chhu is the water source for the proposed Peltric set project. The source is glacier fed and perennial. Due to the presence of other water sources, this stream is not used for drinking or other household purposes. Only a small portion of the current is to be diverted for power production, and the natural flow is adequate even during the leanest flow season. Hence there are no problems regarding water rights.

| | |
| --- | --- |
| PLATE 1.4B. Waterfall at Jomo'i Gul Chhu | PLATE 1.4C. Waterfall at Jomo'i Gul Chhu |
1.5 Plant Capacity and System Efficiency
Plant capacity is based on the discharge, head, and efficiency of the equipment to be used in the plant. Studies show that if the discharge and head taken for the plant are 15 l/s and 40 meters respectively; plant efficiency will be 55%. This produces slightly more than 3 kW of power, which will be sufficient to meet the current needs of the village. With an average distribution of 40 watts, each household will be able to use 5 CFL bulbs, sufficient for work, study, and recreational use.
Chapter 2: Socio-Economic Study
The entire population of the project area belongs to the Sherpa ethnic group. Subsistence-level agriculture is the economic mainstay; virtually all arable land is devoted to potatoes, with minimal cultivation of greens and radish. Arable land is limited, due to the topography and climate. Animal husbandry is also important: yaks are bred for milk, and cattle-yak crossbreeds are sold for cash; goats are sold for meat, and sheep are raised for wool. Since the 1970s, many residents have been engaged in tourism services outside the valley. Although the per capita income of Beding residents is on average well below the poverty line, there are sufficient actual and potential resources to sustain the Rolwaling Hydro Project.
As a result of the seasonal absence from Beding of most of the men, who are engaged in tourism services, the year-round residents are primarily women and children. A high priority must be to provide educational and economic opportunities for these people, particularly during the late fall and winter when the school is closed due to the cold weather and there are virtually no agricultural chores. Electricity will enable the upgrading of the local school, and relieve the burden on many families who find it necessary to send their children to schools outside Rolwaling.
Rolwaling Valley has considerable potential as a tourist destination. For the past decades, development has been stymied due to restrictive permit regulations which effectively prevent independent trekking. Essentially all visitors arrive with fully-equipped commercial tours, and spend little or nothing in Beding. At present these regulations have been relaxed, but development will be delayed for some time due to the absence of basic services. Installation of electrical power will assist considerably in expediting development, providing opportunities for local employment, and resulting in the correction of social and economic distortions that arise from the tendency of most adult males to seek employment in tourism services outside the valley.
Beding residents suffer from numerous health problems. Alcoholism is prevalent, due in part to the absence of recreational opportunities. Lack of running water, and in particular of hot water for bathing and washing, laundry, and proper washing of dishes and kitchen utensils, results in gastro-intestinal and skin disorders. Dependence on open stoves without chimneys for heating results in respiratory illnesses, particularly chronic bronchitis. All of these problems would be partially or fully alleviated with adequate supply of electrical power. While the small plant currently envisioned would not provide such a supply, it is expected that this plant will be a first step, creating a demand for more power as people realize the potential benefits.
Chapter 3: Hydropower End-Uses
The following are potential uses for power generated by the proposed Rolwaling Hydropower project. They will enhance opportunities for employment and income-generating activities in the future.
Tourism services: If prepared during the daylight hours, when little electricity is needed for lighting, hot water and baked goods can substantially enhance tourist comfort and local revenues. In the evening, electric lighting is essential for the comfort of tourists. A limited supply of hot water can be provided through solar devices, but on a larger scale it will require heaters and pumps. Initially, we would like to install a communal shower facility to be used by residents as well as tourists. Hot water is vitally important to hygiene.
Dried foods: There is an excellent opportunity for the preparation of dried potato products for trekkers. Some items, such as finger chips, could be dehydrated by solar devices; one item that we feel would be particularly marketable, shakpa or sherpa stew, would require an assist from an electric food dryer. (This device would have the added function of contributing a little heat to the household.) An electric vacuum sealer would be useful, though probably not essential.
Trekking equipment manufacture: As part of our project, we will initiate a small trekking equipment manufacturing enterprise. Light-weight materials will be imported to Rolwaling, where they will be sewn and marketed locally as well as supplied to Rolwaling-based outfitters and trekking agencies. We will start this enterprise with three mechanical (treadle) sewing machines, to be replaced later by faster and more efficient electric machines. In March 2003, we will bring a master tailor from Kathmandu to train the equipment makers. In addition, to support the trekking equipment manufacture, we will need to install a computer so that orders and design modifications can be e-mailed from Kathmandu; this equipment can be used to begin computer training in Beding. Internet connection will be available, as a telephone is to be installed at the Hydrology and Meteorology Department office; we will provide two or three laptop computers to initiate instruction.
Education: Lights and space-heaters will permit the operation of Beding's schoolhouse during all or part of the fall and winter; the light will also permit home study during the long evenings. The importance of general education in raising economic opportunities cannot be overstated. Furthermore, if this enhancement of the school leads to further improvements, it could result in less reliance on boarding schools outside of Rolwaling Valley.
Chapter 4: Structures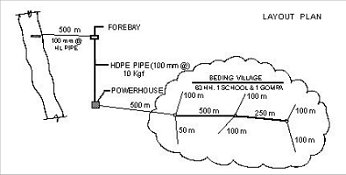 Figure 4. Rolwaling Hydropower Project layout plan

The study team conducted a comprehensive walkover survey with the help of engineering equipment during the field visit with local people and selected the site for intake, forebay, penstock and powerhouse.

The water from the stream is tapped directly into GI pipe of 50-meter length to the forebay and discharge into HDP (10-kgf pressure carrying capacity) penstock pipe.
4.1 Headrace Canal
A headrace is necessary to convey water from the intake to the forebay. Due to the difficult topography of the headrace site, building an open canal is not feasible: it would be not only difficult but also costly. To overcome this problem, a GI pipe with a 100-mm internal diameter is proposed to carry water from the intake to the forebay. The total length of such pipe is 50 meters, and it should be clamped onto the rocks situated along the alignment. Due to the exposure, treatment with enamel paint will be necessary to protect the pipe from weathering.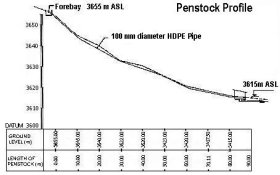 Figure 4.2A. Penstock profile
4.2 Forebay cum De-Silting Basin
The forebay is designed so as to act as a de-sanding basin for the sedimentation of silt particles. The forebay is also an inlet chamber of penstock pipe; hence, care should be taken to safeguard the turbine from cavitation. The proposed size of the forebay is 1.75 m long, 1.0 m wide and 1.0 m deep; this will reserve water for 4 minutes on approach to the turbine. Both the flushing set and the overflow system will be incorporated into the forebay in order to facilitate silt removal. Excess water in the forebay will be channeled to the nearest natural drains.

Figure 4.2B. Forebay: Trace Rack Detail

Figure 4.2C. Forebay: Section at B-B

Figure 4.2D. Location of Forebay

Figure 4.2E. Forebay: Section at A-A

Figure 4.2F. Forebay Plan
4.3 Penstock Pipe, Anchor Blocks and Expansion Joints
The penstock pipe connects the forebay tank with the turbine. To make the project cost effective and less complicated HDP pipe with 100-mm internal diameter and 10-kgf is recommended for this scheme.
If possible, the whole length of HDP pipe should be buried at a depth of 60-100 cm; otherwise GI pipe will be employed. For the buried pipe, anchor blocks and supporting piers are not required; this will help minimize the cost of the project. Similarly, expansion joints are not necessary for the HDP pipe, since it can move easily under the forebay inlet point. A final determination as to the need for steel pipe anchors and supporting piers will be made in the course of the pre-installation survey.
4.4 Powerhouse
A powerhouse is to be constructed to house the Peltric set power generator. Locally available construction materials and local technology is preferred for the construction of the powerhouse in order to make the project cost effective and to provide an opportunity to develop the skills of the local people. The recommended internal size of the powerhouse is 3.5 x 2.5 x 2.5 meters.
| | | |
| --- | --- | --- |
| Figure 4.4A. Powerhouse Plan | Figure 4.4B. Powerhouse: Section at A-A | Figure 4.4C. Powerhouse: Front Elevation |
4.5 Safeguards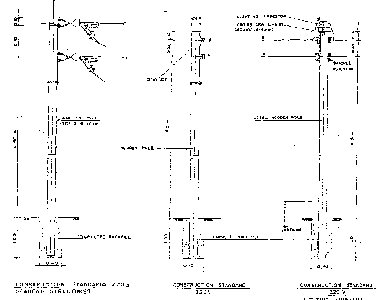 Figure 4.6A. Transmission Line Detail: Construction Standards

Rolwaling, like all sectors of the Himalayan arc, is seismically active, and it is impossible to wholly mitigate hazards posed by earthquake. On the other hand, experience has shown that very small plants are less vulnerable to stress from moderate tremor shake than larger and more rigid structures. As Rolwaling Valley has a history of monsoon and Glacial Lake Outburst Floods (GLOF), all equipment will be installed at least 30 m above the natural river banks. In addition, a geologist will site all critical equipment out of the paths of rockfall and landslide. Lightening arresters will be installed to protect against lightening.
4.6 Transmission Line and Load Center
The main load centers are shown in the schematic plan of the transmission and distribution in the appendices of this report. The measured length of the transmission line is 2.1 km and distribution is about 0.7 km. Locally available wooden poles are suggested for supporting the transmission line. The total number of poles will be 70, and the distance between each pole will be 40 m on average.
Figure 4.6B. Principal Diagram of Power System
Figure 4.6C. Details of Stay Sets
4.7 Cost Estimate
The preliminary project cost includes the cost of installation and operation. Installation cost means the investment during the commissioning process, which includes the cost of civil construction, electro-mechanical equipment, erection, labor, and so on.
The estimate of installation costs is based on prior experience with similar schemes as well as on data collected at the time of the field visit regarding the price of material available from the local market, local labor and transportation costs.
<![if !supportEmptyParas]> <![endif]>
Table 4.7 Summary of Project Costs
| | | | |
| --- | --- | --- | --- |
| <![if !supportEmptyParas]> <![endif]> | Description | Amount (NR) | Amount (US $)* |
| A | Civil work | 86,500 | 1146.67 |
| B | Electro-mechanical | 586,925 | 7825.67 |
| C | Transport of materials by helicopter | 67,500 | 900.00 |
| D | Survey and design | 66,000 | 880.00 |
| E | Installation | 75,000 | 1000.00 |
| F | Supervision | 50,000 | 666.67 |
| G | Subtotal (D + E + F) | 191,000 | 2546.67 |
| H | Subtotal (A+B+C+G) | 931,925 | 12,424.67 |
| I | VAT (10% of H) | 93,193 | 1,242.47 |
| J | Total (H+I) | 1,025,118 | 13,668.24 |
| K | Contingencies (5% of J) | 51,256 | 683.41 |
| <![if !supportEmptyParas]> <![endif]> | Grand Total (J+K) | 1,076,374 | 14,351.65 |
* Conversion is based on the rate of 75 Nepalese rupees to the American dollar.
Chapter 5: Implementation Plan
A three-phase work plan has been proposed. In elaborating the extent of work for these phases, the following operations were taken into account:
Collection of local construction material

Preparation of electro-mechanical equipment

Construction of civil structures
Transportation of non-local material
Installation
Phase 1
planning, design and preparation of report
transportation of non-local construction material
calling quotation for electro-mechanical equiment and order
construction of head race structures: intake, de-silting cum forebay basin
Phase 2
transportation of powerhouse equipment, as well as penstock and forebay and headrace accessories
fixing the turbine, etc.
laying penstock pipe and erection of support structures
construction of forebay, overflow, etc.
transportation of transmission cable and accessories
preparation and collection of wooden poles
Phase 3
erection of poles/supports and transmission line
erection of distribution/service line and household wiring
training for operators/users
test operation/fixing of generator
powerhouse construction and construction of tailrace channel
Chapter 6: Financial Analysis
6.1 Analytical Assumptions
Micro-hydro power projects cannot be justified on the basis of financial covenants prescribed by standard financial analysis in remote areas of Nepal, where transport cost only constitutes about one-half of the total investment cost. Therefore, the calculation of BC ratio, net present value and internal rate of return are meaningless. MHP projects in such areas can never be commercial ventures. The investment decision cannot be based on conventional parameters. If investment decisions are taken on such parameters, there will not be any projects and the socio-economic situation will never improve.
Consequently, a new approach must be followed to evaluate the projects such as the Rolwaling Hydropower Project. Sustainability rather than profitability should be emphasized. Can the operation and maintenance of the project run smoothly with the revenue generated from the project? If this is possible, the project will be sustainable. Having analyzed the needs and motivation of the Beding community, we find that:
The income from the project is sufficient to operate and maintain the project.
A certain amount of money can be saved for the replacement of parts, equipment, materials and also for major repairs and maintenance foreseeable under normal conditions.
Since the project is funded by grant, government subsidy, and local contribution, financing should be based minimally on loans. Prompt payment of installments should pose no hardship.
6.2 Sources of Funding
His Majesty's Government (HMG) of Nepal has announced a new subsidy policy for the development of Peltric sets and MHP in rural areas of the country. Considering the prevailing subsidy policy, the community will receive a subsidy of NR 55,000 (US$733) per kilowatt, or NR 165,000 (US$2200) for this project.
Table 6.1

Sources of Funding
| | | | |
| --- | --- | --- | --- |
| <![if !supportEmptyParas]> <![endif]> | Sources of finance | NR | US$ |
| 1 | Subsidy provided by HMG | 165,000 | 2,200 |
| 2 | Local contribution | 60,000 | 800 |
| 3 | External contribution | 851,374 | 11,352 |
| <![if !supportEmptyParas]> <![endif]> | Total project cost | 1,076,374 | 14,352 |
CHAPTER 7: Conclusions
Various alternatives were studied and the layout proposed offers optimal economic and environmental impact. Specifically:

The proposed project interferes minimally with the environment. Rather it would minimize carbon emission from burning of forest wood, thus improving the environment and the health of the local people.
The proposed project will provide electricity continuously and with a high degree of reliability. Thus the project will be helpful in creating employment opportunities and improving the quality of life in terms of per capita income, education and health in the area.

Jomo'i Gul Chhu, the proposed site of the Rolwaling Hydropower Project, is suitable for power development in the rural village of Beding, Rolwaling, Dolakha District.

An installation of one unit of 3 kW, utilizing a gross head of 40 m and 15 l/s of designed discharge, is considered appropriate for the project.

The project involves very simple civil engineering structures and readily available electro-mechanical equipment and can be completed in a period not exceeding three months.
Construction materials such as stone, sand, and aggregate are available in the local vicinity, and local manpower for non-skilled tasks is available in the village.

The project is socially acceptable and locally manageable with minimum operation and maintenance cost.
APPENDIX: Detailed Cost Estimate
<![if !supportEmptyParas]> <![endif]>



Description of Work

Unit

Rate

Quantity

Amount (NR)

Remarks

A

Civil Work

<![if !supportEmptyParas]> <![endif]>

<![if !supportEmptyParas]> <![endif]>

<![if !supportEmptyParas]> <![endif]>

<![if !supportEmptyParas]> <![endif]>

<![if !supportEmptyParas]> <![endif]>

1

Intake and Diversion

<![if !supportEmptyParas]> <![endif]>

<![if !supportEmptyParas]> <![endif]>

LS

10,000.00

<![if !supportEmptyParas]> <![endif]>

2

Headrace (100 mm diameter GI)

Rm

350

50

17,500.00

<![if !supportEmptyParas]> <![endif]>

3

MS trash rack

No

1250

1

2,000.00

<![if !supportEmptyParas]> <![endif]>

4

Forebay cum de-silting basin

<![if !supportEmptyParas]> <![endif]>

<![if !supportEmptyParas]> <![endif]>

LS

15,000.00

<![if !supportEmptyParas]> <![endif]>

5

Flushing set pipe arrangement

set

3000

1

3,000.00

<![if !supportEmptyParas]> <![endif]>

6

Flush valve 2" with nipple

set

2000

1

2,000.00

<![if !supportEmptyParas]> <![endif]>

7

MS trash rack

set

2000

1

2,000.00

<![if !supportEmptyParas]> <![endif]>

8

Powerhouse (3.5 x 2.5 x 2.5) in stone, mud, mortar with CGI sheet roofing

<![if !supportEmptyParas]> <![endif]>

<![if !supportEmptyParas]> <![endif]>

1

30,000.00

<![if !supportEmptyParas]> <![endif]>

9

Tailrace canal

<![if !supportEmptyParas]> <![endif]>

<![if !supportEmptyParas]> <![endif]>

LS

5,000.00

<![if !supportEmptyParas]> <![endif]>

<![if !supportEmptyParas]> <![endif]>

Subtotal (A)

<![if !supportEmptyParas]> <![endif]>

<![if !supportEmptyParas]> <![endif]>

<![if !supportEmptyParas]> <![endif]>

86,500.00

<![if !supportEmptyParas]> <![endif]>

B

Electro-mechanical

<![if !supportEmptyParas]> <![endif]>

<![if !supportEmptyParas]> <![endif]>

<![if !supportEmptyParas]> <![endif]>

<![if !supportEmptyParas]> <![endif]>

<![if !supportEmptyParas]> <![endif]>

1

Penstock pipe

<![if !supportEmptyParas]> <![endif]>

<![if !supportEmptyParas]> <![endif]>

<![if !supportEmptyParas]> <![endif]>

<![if !supportEmptyParas]> <![endif]>

<![if !supportEmptyParas]> <![endif]>

2

100 mm diameter 10 kg/cm2 HDPE penstock

Rm

425

110

46,750.00

<![if !supportEmptyParas]> <![endif]>

3

GI vent pipe

Rm

150

1.5

225.00

<![if !supportEmptyParas]> <![endif]>

4

Bell mouth with HDP flange set

set

2500

1

2,500.00

<![if !supportEmptyParas]> <![endif]>

5

Pipe coupling flange set

set

1000

1

1,000.00

<![if !supportEmptyParas]> <![endif]>

6

Medium head single jet Peltric set including ballast for induction generator

set

125,000

1

125,000.00

<![if !supportEmptyParas]> <![endif]>

7

16 sq mm armored pvc copper cables for inter-connection and for up to first pole

Rm

175

30

5,250.00

<![if !supportEmptyParas]> <![endif]>

8

Earthing sets including 300 x 300 x 3 mm copper plate, 4 sq mm copper conductor

set

1500

5

5,250.00

<![if !supportEmptyParas]> <![endif]>

9

Lightning arresters (0.22 kV)

No

2

1500

3,000.00

<![if !supportEmptyParas]> <![endif]>

10

Tools (hot plate, Teflon cloth, thermochalk, steel wool, line tester, pliers, screwdriver, Giti wrench, slide wrench, pocket multimeter

set

6000

1

6,000

<![if !supportEmptyParas]> <![endif]>

11

Spares (control transformer, bearing, mcb)

<![if !supportEmptyParas]> <![endif]>

<![if !supportEmptyParas]> <![endif]>

LS

5,000.00

<![if !supportEmptyParas]> <![endif]>

12

Weasel ACSR conductor

Rm

20

3,600

72,000.00

<![if !supportEmptyParas]> <![endif]>

13

Shackle insulators with D iron and mounting accessories

No

85

70

5,950.00

<![if !supportEmptyParas]> <![endif]>

14

Stay sets

set

1200

5

6,000.00

<![if !supportEmptyParas]> <![endif]>

15

Wooden junction boxes (approx.)

set

125

70

8,750.00

<![if !supportEmptyParas]> <![endif]>

16

Load limit switches in lockable metal box (approx.)

set

600

10

6,000.00

<![if !supportEmptyParas]> <![endif]>

17

Service drop cable

Rm

20

300

6,000.00

<![if !supportEmptyParas]> <![endif]>

18

Main switch

set

2000

1

2,000.00

<![if !supportEmptyParas]> <![endif]>

19

Local wooden poles

No

500

70

35,000.00

Local contribution

20

7/22 service wire

Rm

10

4500

45,000.00

<![if !supportEmptyParas]> <![endif]>

21

Household wiring (64 hh + school + gomba)

No

66

3000

198,000

<![if !supportEmptyParas]> <![endif]>

<![if !supportEmptyParas]> <![endif]>

Subtotal (B)

<![if !supportEmptyParas]> <![endif]>

<![if !supportEmptyParas]> <![endif]>

<![if !supportEmptyParas]> <![endif]>

<![if !supportEmptyParas]> <![endif]>

584,675.00

<![if !supportEmptyParas]> <![endif]>

C

Transport of materials by helicopter

kg

45

1500

67,500.00

<![if !supportEmptyParas]> <![endif]>

D

Installation

<![if !supportEmptyParas]> <![endif]>

<![if !supportEmptyParas]> <![endif]>

LS

75,000.00

<![if !supportEmptyParas]> <![endif]>

E

Survey and design

<![if !supportEmptyParas]> <![endif]>

<![if !supportEmptyParas]> <![endif]>

LS

66,000.00

<![if !supportEmptyParas]> <![endif]>

F

Supervision

<![if !supportEmptyParas]> <![endif]>

<![if !supportEmptyParas]> <![endif]>

LS

50,000

<![if !supportEmptyParas]> <![endif]>

G

Subtotal (D + E + F)

<![if !supportEmptyParas]> <![endif]>

<![if !supportEmptyParas]> <![endif]>

<![if !supportEmptyParas]> <![endif]>

191,000.00

<![if !supportEmptyParas]> <![endif]>

H

Total (A + B + C + G)

<![if !supportEmptyParas]> <![endif]>

<![if !supportEmptyParas]> <![endif]>

<![if !supportEmptyParas]> <![endif]>

931,925.00

<![if !supportEmptyParas]> <![endif]>

I

VAT (10% of H)

<![if !supportEmptyParas]> <![endif]>

<![if !supportEmptyParas]> <![endif]>

<![if !supportEmptyParas]> <![endif]>

93,192.50

<![if !supportEmptyParas]> <![endif]>

J

Total (H + I)

<![if !supportEmptyParas]> <![endif]>

<![if !supportEmptyParas]> <![endif]>

<![if !supportEmptyParas]> <![endif]>

1,025,117.50

<![if !supportEmptyParas]> <![endif]>

K

Contingencies (5% of J)

<![if !supportEmptyParas]> <![endif]>

<![if !supportEmptyParas]> <![endif]>

<![if !supportEmptyParas]> <![endif]>

51,255.88

<![if !supportEmptyParas]> <![endif]>

<![if !supportEmptyParas]> <![endif]>

Grand Total (J + K)

<![if !supportEmptyParas]> <![endif]>

<![if !supportEmptyParas]> <![endif]>

<![if !supportEmptyParas]> <![endif]>

1,076,373.38

<![if !supportEmptyParas]> <![endif]>
---
[ Bridges | Update | Academics | Academic/Volunteer Projects | Apply | Namche Conference | Bridges Enterprises | Rolwaling | Photos | Research Links | Nepal Links Enterprises | FAQ | Forum | Surveys ]
---