Welcome to Rolwaling!

As Urgyen of Beding Gompa and manager of the Beding office of HMG's Department of Hydrology and Meteorology, I would like to call your attention to some recent developments in Rolwaling and also urgently request your cooperation on two matters.

First, emergency medical supplies are now available at my office in Nyimare, ten minutes from Beding. (Please donate your extras!) This office will also be equipped with an emergency telephone by early May 2002.

Second, there are now quite a few lodges between Simigaon and Na, including five in Beding. These and other changes mean that tea-house trekking (independent or in commercial groups) is safe and inexpensive alternative to self-sufficient expeditions, which make no economic contribution to our communities.

Now, two requests: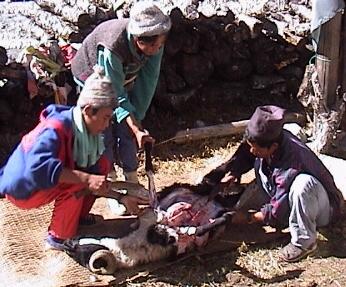 Unacceptable: staff of commercial group slaughters a sheep in Beding.

We Sherpas of Rolwaling are proud of our heritage as a "beyul" -- a sacred valley extablished by Guru Rinpoche himself. One of our most important traditions is the absolute prohibition of hunting and slaughter in our valley. However, some trekking groups have been buying livestock from our villagers and killing them right here. Of course, the purchase price is a big temptation for a few of our poor people, but the killing is extremely offensive to most of us. We would request that all agencies please instruct your staff not to purchase any livestock in Rolwaling.
Also, we have designated a site for disposal of trash: there are natural pits among the rocks just west of Beding Gompa where rubbish can be hidden. Please do not dump garbage anywhere else, and please do not burn it, as we believe that the gods are offended by these practices.
For more information about tourism in Rolwaling, please contact me at the address below.
We thank you for your cooperation and look forward to your safe and harmonious visit to Rolwaling, the sacred valley.
Lama Nawang Chokling
Beding, Rolwaling
Mail:
Lama Nawang Chokling
c/o Department of Hydrology and Meteorology
P.O. Box #406
Babar Mahal
Kathmandu, Nepal