March 20-25 Six days of orientation, sightseeing, and practical lectures in Kathmandu. Expedition Planning Protocol exercise. Shake-down ascent of nearby Nagarjun (7000'). Last-minute purchases of gear and supplies.

March 26-27 Two-day rafting expedition on the Bhote Khosi. This exciting plunge through Class 4 and 5 rapids is an opportunity for the group to get to know each other and build teamwork skills.

March 28-April 1 Five-day trek to Beding (3693 m).

April 2-May 6 Four weeks of intensive mountaineering exercises, interspersed with workshops in heritage interpretation.

Based in Beding, day-trip training exercises will be conducted on various nearby cliffs and hanging valleys, including Jomo'i Gul Chhu, on the southern escarpment of Gauri Shankar. Longer excursions include:

visits to two glacial lakes, Tsho Rolpa (a notorious glacial lake outburst flood hazard until the recent implementation of a mitigation project) and the sacred Omai Tsho
ascents of Menlung La, the pass where Eric Shipton captured his famous yeti footprint photographs; Ramdung Go (5930 m); and Yalung Ri (5630m)
exit expedition via Tashi Laptsa Pass, with ascent of Pachermo (6273m), and descent to Thame, in Sagarmatha (Everest) National Park

May 7-May 26 [OPTIONAL] Trek to Everest Base Camp, Kala Pattar, Gokyo; participate in the Namche Conference ("People, Park, and Mountain Ecotourism) and closing ceremonies of the Mt. Everest Jubilee Year (50 years after the first ascent by Tenzing Norgay and Sir Edmund Hillary on May 29, 1953).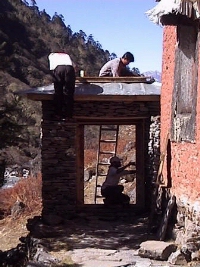 Summiters may participate in volunteer projects. Here, Bridges team members help build a new gate for the monastery. In 2003, projects will include the installation of Rolwaling's first micro-hydropower plant.


219 W. Spencer St. #3
Ithaca, NY 14850
Tel: (609) 256-0102 Fax: (708) 575-6620 Email: etters@bridges-prtd.com