Learn the skills to become a safe and successful mountaineer from seasoned Everest summiters! Our instructors are Sherpas, natives of Rolwaling. They have years of experience guiding world-class alpinists to the top of the highest peaks on Earth, including Mt. Everest. Now they have formed a school in their own home community of Beding ("the Cradle of Heroes"), deep in the spectacular High Himal, where they will share with you their intimate knowledge of and appreciation for the ultimate adventure. More...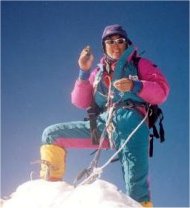 Who are you? More to the point, why should you join Summiters? You want to climb -- the higher, the better. You'd love to climb Everest.
Because it's there?
Well, that's cute, but just now you don't have time to be a tourist. You've already got a career in adventure tourism. Or you're looking for one -- something that will keep you out there, up there, for life.
But you do have time to invest in acquiring skills that will serve you, both as a mountaineer and as professional in the field of ecotourism development. More...
Heritage Interpretation is the art of helping people explore and appreciate our world. It embraces all the skills of tourism promotion, from photography to writing brochure copy to trail signage to museum design. It is also excellent training for fictional and autobiographic travel writing. What will you have when the climb is over? More...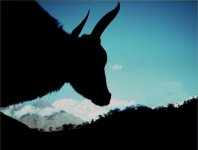 Or not? If you really aren't interested in heritage interpretation and ecotourism development, you can still join Summiters. There is a "Just-Do-It" option, for those who want to focus purely on mountaineering skills. More...
Who are we? Summiters is sponsored jointly by Mt. Everest Summiters Club (MESC), a local non-profit non-goverment organization (NGO) whose thirty members are all Everest summiters from Rolwaling, and by Bridges: Projects in Rational Tourism Development an independent organization which since 1999 has been helping the residents of Rolwaling Valley develop opportunities for climbers and trekkers. Dawa Chhiri Sherpa, General Secretary of MESC, is Director of the Summiters school; Pepper Etters (Bridges 2001), is the Field Manager and Bridges coordinator. More...
Make a difference! Summiters team members may participate in some of the other volunteer projects sponsored by Bridges-PRTD, including the installation of the first hydropower plant in the valley. More...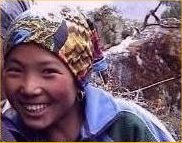 Why Rolwaling? According to Tibetan Buddhism, the great tantric saint Padmasambhava created a handful of hidden valleys to serve as sanctuaries for dharma during future times of trouble. Rolwaling is believed to be one such beyul. Cultural traditions were preserved more tenaciously in this sacred valley. Festivals and rituals are taken seriously, and generally entail serious quantities of home-brewed chang, and dancing and singing through the night. Buddhist proscriptions against slaughter and hunting mean that the natural wildlife, too, has flourished.
Rolwaling's status as a sacred valley is not the only reason it has remained relatively unimpacted by the incursions of Western culture. For decades an arbitrary regulation has prevented free access to tourists.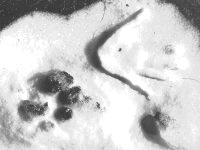 Now the Sherpas of Rolwaling have prevailed in their struggle for economic opportunity. The barriers are lifted, and changes are about to come. The challenge today is to manage the change, to make sure that the future will bring prosperity without destroying the cultural and natural legacy. More...
What's in it for us??? Okay, let's be honest. We're not just going to Rolwaling to help. In fact, the reason we got into this field in the first place is that it gives us a chance to have fun -- our kind of fun -- in the most extraordinary destinations in the world.
A Last Best Place
Rolwaling is absolutely one of the last best places. Soaring peaks and plunging waterfalls. Footpaths shared by snow leopards. Ground Zero for yeti encounters. A land of smiling faces and superhuman exploits, the Sacred Valley will cast a spell over you.
As you stand atop Dutch Rock, on the rim of the shimmering Tsho Rolpa, and steel yourself for the assault on Tashi Laptsa and Pachermo, you will look out across this Cradle of Heroes and promise yourself, "I'll be back!"
The agenda The program will run for seven weeks, from March 20 to May 6, 2003. The first week will be an orientation to the context of mountaineering in Nepal: an exploration of the tourist attractions and services in Kathmandu and environs, as well as a rafting expedition on the mighty Bhote Kosi.

This will be followed by the caleidoscopic trek up to Rolwaling Valley, and then by four weeks of intensive training in mountaineering skills. Ropework, survival exercises, glacial traverses, and challenging ascents of intermediate level peaks, including Yalung Ri and Ramdung. At nearly 20'000 feet, these pups are just about as high as the highest peaks in the Rockies and Andes, and a lot higher than the Alps! More...
Upward Bound!
Between mountaineering exercises, there will be workshops in various genres of copywriting and heritage interpretation, lectures on local culture and wildlife, and brainstorming sessions in which the team will analyze development hazards and opportunities.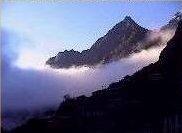 The grand finale will be a traverse of the formidable Tashi Laptsa pass and the ascent of Pachermo (21,000', 6100m). An optional epilogue: independent trek through Khumbu, including Gokyo and Everest Base Camp, followed by participation in an international symposium, the Namche Conference ("People, Park, and Mountain Ecotourism") as well as closing ceremonies of the Mt. Everest Jubilee Year (50 years after the first ascent by Tenzing Norgay and Sir Edmund Hillary on May 29, 1953). More...